Lose weight while walking on the boardwalk and having fun is my inspiration of the day.
When I visited Atlantic City, NJ in the summer of 2016, I decided that I was not going to gamble in the casino. Maybe I would use some of the "free" money that the casino gives you as a new visitor where you can play in the "penny" machines, but I am well aware that the house always wins.
Before I went to play, I went for a walk on the boardwalk. It was a cloudy day. The weather channel had predicted rain, so I packed my oversize size S raincoat into my purse.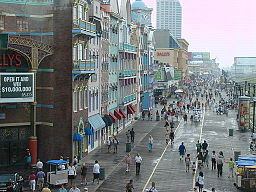 I walked in the direction to all the other casinos. The bus had stopped in the last resort on the boardwalk. It was easy to find the entrance to the boardwalk. There was a large door to the boardwalk that I found after doing a little exploring. I had to go down a level and turn to the left from where the bus stopped.