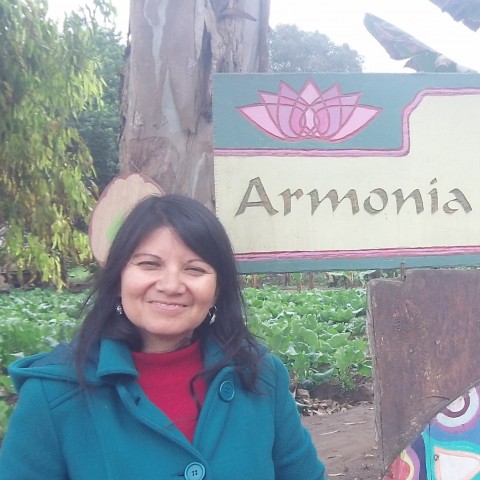 Hi, I am Nieves Isabel. Petite Girls Diet is dedicated to Petite Women that want to lose weight and maintain it in a good healthy range according to their height and life style.
The picture in this page was taken in the krishna turistic village in Chancay, Peru. It was one of the bus stops visiting the north of Lima, Peru with my family .  "Armonia" means "Harmony" in Spanish and it . Harmony is a state of mind that I desire to attain everyday and I know it is a good state of mind to maintain an ideal weight.
I use to struggle with my weight for many years. When I was a child I suffered from exercise induced asthma. The doctor told my mom that I had to eat a lot, that I should stop going to my beloved ballet class and avoid strenuous exercise. He recommended painful shots and tons of vitamins too. I remember when my mom used to wake me up very early on Saturday mornings to give me a super vitamin complex that tasted yucky.
After a while the asthma went away and I felt better and healthier but I keep the weight.
When I finished high school I went to a doctor that recommended a 800 calorie diet because of my height. It was very painful to follow but I did it and I lost 28 lbs/14 kg and I look and felt good.
You know that for petite women ( women shorter that 5'2'') to gain or lose any quantity of pounds is going to get notice; your clothes are going to feel loose.
It was difficult for me to maintain the ideal weight , I gained and lose weight several times but for the last twenty years my weight have fluctuated between 96-100 lbs/ 44-47 Kg and I considered it to be my healthy weight.
I want to share my journey and inspire you to maintain your ideal and healthy weight.
Thank you for visiting my page.
Dr. Nieves Isabel de la Cruz
Studied Medicine at the Universidad de San Marcos, Lima Peru.
She worked as Family Physician in Peru and Health Educator in New York.
She is married with children and has a blast raising them.
Her message is to eat healthy food and live a healthy lifestyle to
prevent diseases and have a joyful life.